Private Tuition
Take your skills to the next level
Improve and extend your skills through Private Tuition with NICA Rec's professional and specialist circus trainers. Private Tuition is offered for a variety of skills and skill levels, and you can nominate how many sessions you would like to book in for.
Private Tuition can be booked Monday to Thursday, 5:15 - 8:30pm and Saturday 9:30 - 3:30pm throughout the school term, however, this is dependent on the availability of suitable trainers and the required space/equipment.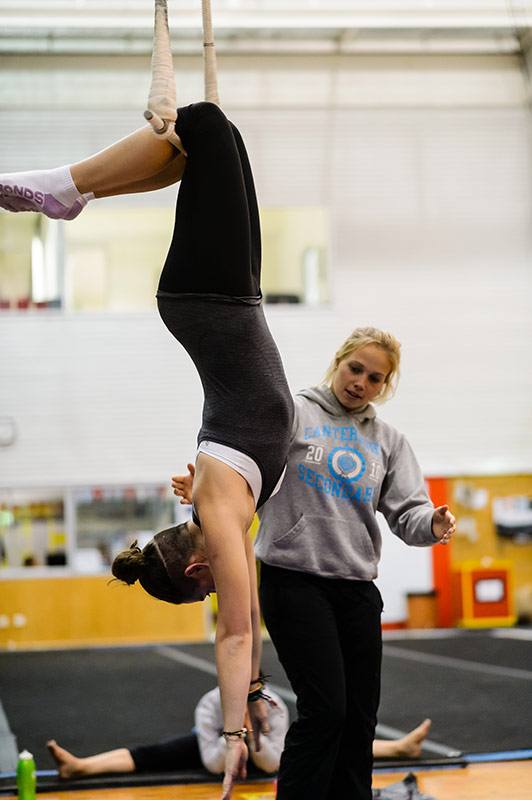 Pricing
The following private tuition fees are capped at two participants per lesson for standard apparatus and up to four participants per lesson for flying trapeze. If you have more people interested in sharing your lesson, please contact us and we will provide you with a quote.
* All dates and times to be arranged upon booking. Fees may apply for any changes after payment.
** If there are 5-6 people, we recommend booking in for a two-hour session.
Booking
What's Next?
Submit your request to the NICA Rec team below. Once submitted, we will start searching for an available trainer.
After the session times and dates have been decided, full payment will be required to confirm the booking. We are unable to hold any bookings without payment in advance. Once your payment has been processed, you will receive confirmation detailing lesson times, how to find NICA and a copy of the NICA Indemnity Form.
When booking in times and dates for your private lesson, please ensure you check your other commitments. Rescheduling is not always possible and may result in the forfeit of your fee. If we can accommodate your rescheduling request, changes to your booking may incur an administration fee. Any changes to a scheduled lesson must be approved by the NICA Rec team, and cannot be made directly with your trainer.
Make a booking

FAQs
Frequently Asked Questions
Check out our FAQs here. Still can't find what you're looking for? Contact us and we'll get back to you as soon as possible.
Keep up with us
Sign up to receive our Latest News straight to your inbox!