NICA Connects
COMMUNITY // ALUMNI // INDUSTRY
Connections and collaborations
About Connects
NICA connects involves artist residencies, social circus outreach, alumni support, professional development, industry and community engagement and sector advocacy and leadership.
Industry Affiliations
NICA is one of eight arts training institutions that comprise the Australian Roundtable for Arts Training Excellence, together with the Australian Ballet School, National Institute of Dramatic Arts, Australian National Academy of Music, Australian Youth Orchestra, Australian Film Television & Radio School, Flying Fruit Fly Circus, and the National Aboriginal Islander Skills Development Association.
NICA is a full member of the Federation of European Circus Schools (FEDEC).
On a grassroots level, the NICA Connects team continue to develop resource-clever, valuable collaborations to share directly with NICA's students, alumni, and feeder schools.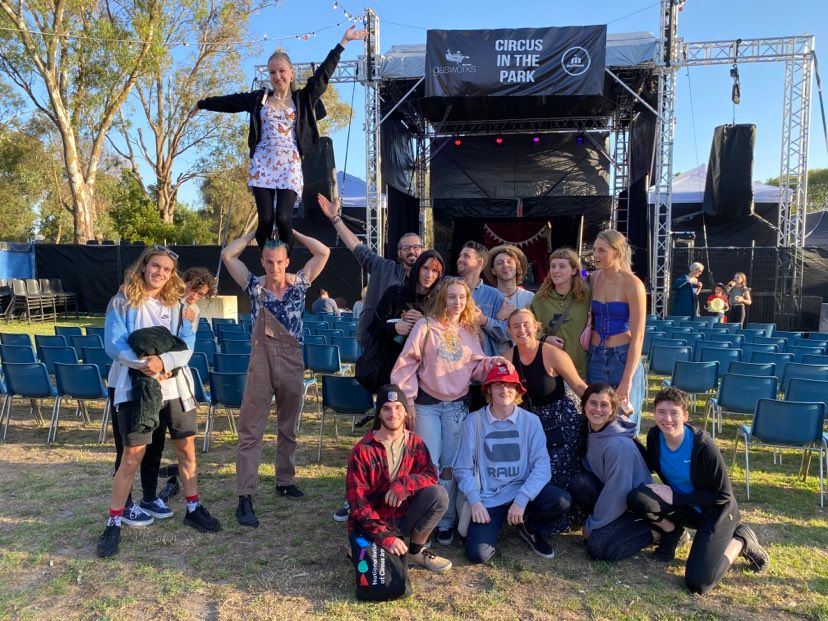 Community
Connecting with the foundations
NICA is driven to create positive outcomes for our greater community.
We connect with our community through multiple initiatives including our Artist in Conversation, Mentorship for students, Social Circus, and Feeder school engagement.
Learn more about the positive impact of our efforts.
community projects
Industry
Championing our hybrid artform
We currently have some wonderful partnerships that help NICA to enhance the industry, allow our students to gain work integrated learning experience, and establish relationships with industry experts. Special thanks to our friends at Gluttony for making the Fringe experience accessible to our graduating artists, and to Head First Acrobats for hosting last year's graduates in the Vault at Melbourne Fringe.
Our Partners at Warehouse Circus work to deliver high-level training and workshops at the Youth Circus Training Camp and Canberra Circus Festival, and NICA joins as guest trainers. You can spot NICA trainers helping around the festival, speaking to students and circus enthusiasts, and (of course) teaching circus!
At home-base, we regularly open the doors of our award-winning facility to industry activities and residencies, including Artist Residencies, Bend The Air and Melbourne Fringe.
We also host Discussion Forums to unpack, learn more, and lead new conversations about issues that directly impact the circus industry, and how we can work to solve them. These are open to everyone, from students, to alumni, to industry affiliates! Last year, our friends at TNA collaborated on the topic of advocating for circus-specific funding for the Victoria Circus sector, with 45 people attending and contributing to the discussion.
Would you like to create a partnership with NICA? Contact us!
let's collaborate
Contact us
Reach out to our Connects team to begin a partnership, share your news or collaborate on a community project.