NICA Rec - Covid-19 Policy
Updated 6 October 2022
NICA has implemented a range of comprehensive in-house initiatives to help mitigate the risk of COVID-19 infection transmission that align with advice provided by the Australian Government Department of Health. Actions include room capacity restrictions; sanitisation stations; enhanced cleaning and disinfection of spaces and equipment; face masks; and hospital grade sanitisers to name a few. For a more details on what NICA is doing, please contact recreation@nica.com.au.
Please see below for both general and specific information relevant to term classes, holiday programs, birthday parties and other NICA Rec programs at NICA.
NICA Rec – COVIDsafe Attendance Rules
All NICA Rec participants are requested to follow these COVIDsafe rules:
Do not attend if you or your child are experiencing any flu-like symptoms or are unwell, even if you have a negative RAT test result
Practise physical distancing
Wash or sanitise your hands upon entry and before/after activities
Enter via the main NICA foyer doors
Leave the building promptly via the designated foyer exit
Face masks are no longer required in indoor settings, but wearing a mask remains recommended
It is your responsibility to ensure NICA is contacted immediately if you or your child are absent and unwell, and/or have tested positive to COVID-19.

What else can I do?
Avoid high traffic areas to minimise crowding; blocking doorways, corridors, main exits/entry points; and overcrowding/stopping for quick chats in tight spaces.
Bring a water bottle with enough water for the session and don't share your water bottle.
GENERAL INFORMATION
Vaccination requirements
Vaccination is no longer a requirement for entry into the NICA buildings.
Face masks
Masks are no longer required to be worn in the NICA buildings, however remain recommended. Please be respectful to anyone at NICA who prefers to continue to wear a mask. It is an individual's personal decision and is completely acceptable.
Masks will be available at reception on request.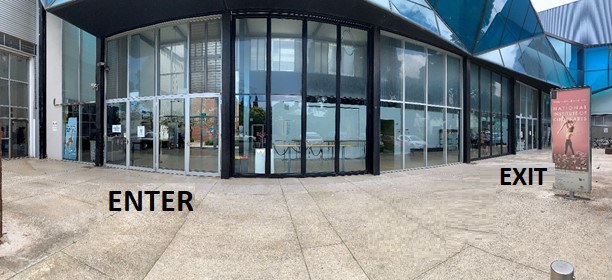 Arrival & Drop-off process – term classes, holiday program, come & try circus, private tuition
Entry is via the doors near reception strictly in the 15 minutes prior to your scheduled class/session time. Early arrivals will be asked to remain outside. To minimise contact, please enter via the glass doors closest to reception and exit via the opposite end of the foyer. On arrival, use hand sanitiser before joining your class.
Parents, please be on time to pick up your child. Trainers will bring the children to the exit door for pick up. When you are identified to the trainer, your child will be permitted to leave.
Term class students may be required to assist the trainer with cleaning and equipment after class. All others are requested to exit the building promptly via the designated foyer exit only.
Birthday party arrival and drop off
Party hosts may arrive up to 30 minutes prior to the party to set up
Guest* entry is strictly in the 15 minutes prior to the party start time.
Early arrivals will be asked to remain outside.
*Parents and additional children: To minimise the number of people in our building and spaces, we encourage parents to drop-and-go wherever possible. If staying, we encourage parents to limit children attending to the party guest only.
Use of own aerial equipment
NICA Rec aerial classes are designed to accommodate the ratio of 1 trainer to 8 participants with equipment being shared between small training bubbles. There are limited aerial points available and the use of individual apparatus within classes will only be permitted if you are deemed to be in a high risk health category, and if we can accommodate personal equipment without impacting on the learning experience of the rest of the class.
Contact NICA Rec
If you have any questions, please contact NICA Rec on recreation@nica.com.au or (03) 9214 6585.